Players to return to action at Cheddar Tennis Club next week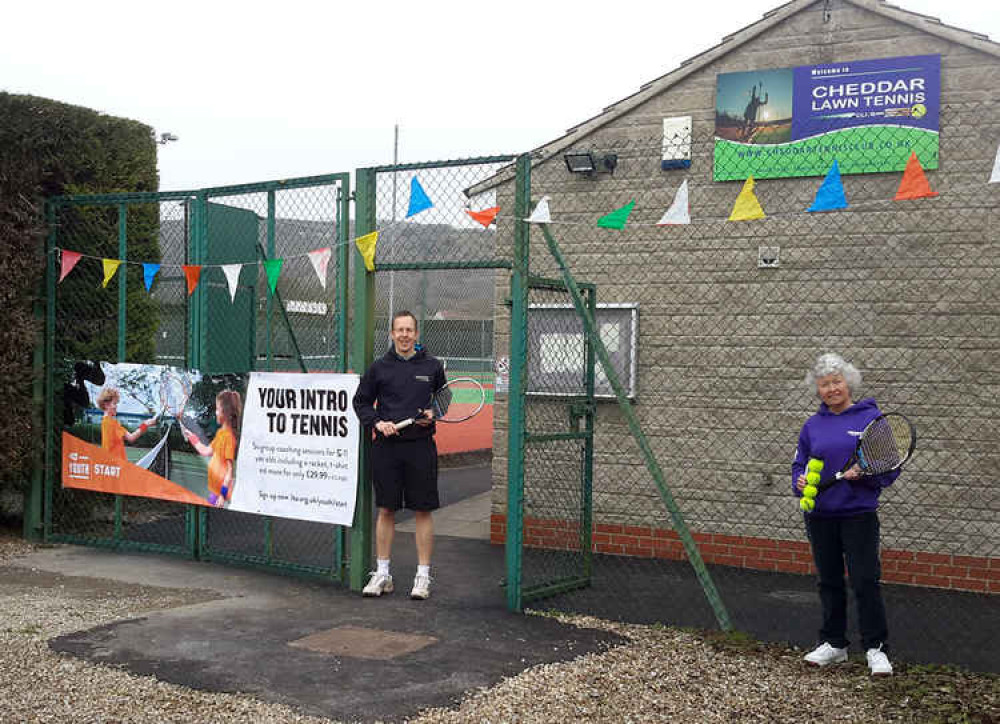 Sarah Strawbridge, chairman, and Stephen Pearce, head coach, unlock the gate after many weeks of closure
With the hedges trimmed, bunting flying and courts swept, Cheddar Tennis Club is getting ready to welcome its members back on March 29, after such a challenging year.
The club offers plenty of opportunities for league tennis and social play whatever your age or ability.
It has four all-weather floodlit carpet courts allowing play every day of the year up to 10pm and a modern clubhouse.
Cheddar Lawn Tennis Club located at Sharpham Road Playing Fields next to Cheddar Reservoir, and is affiliated to the LTA and Clubmark Accredited.
In appreciation of the lack of tennis being played during this very challenging year, the committee is offering a reduction of 25 per cent in membership fees.
This runs right across all sections and includes a furloughed category alongside unemployed members. It will also be trialling a Pay and Play category.
Chairman Sarah Strawbridge said: "We are now introducing Men's Monday Club Night and Ladies' Tuesday Club Night.
"This is a great way to meet new friends and play some fun tennis. All abilities are welcome, and this will run from 7pm to 9.30pm.
"Also, there will be the opportunity to play some competitive tennis in the Corona League, with other local clubs.
"The clubhouse will remain closed until further notice, only access to switch on and off floodlights and the use of the toilet facility is permitted.
"The two-metre social distancing rule will remain until we receive further guidelines from the LTA."
The club is holding Easter holiday camps for children with different sessions for those aged between five and 10, and those aged from 11 to 16.
For more information about the club or the holiday camps, you can visit the Cheddar Lawn Tennis club website HERE.